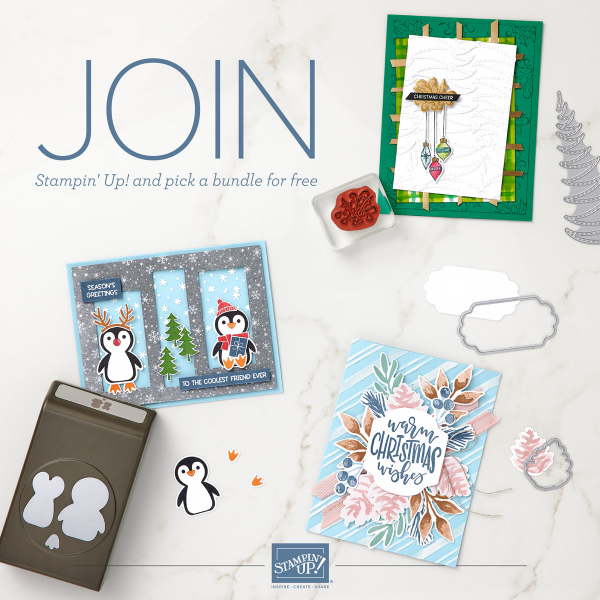 We all love Sale-a-Bration because we can get bonus rewards when we shop!
I have to let you in on a secret, the best deal you can get is the Starter Kit. It's a great value and completely customizable. During Sale-a-Bration you ALSO get a bonus bundle from the July-December Mini Catalog!
That's up to an additional $60 in FREE products! Check out the options here
.
But, that's still not what makes the Starter Kit the best deal. The true value comes in the amazing opportunities and community of demonstrators that you become a part of. It's been the most amazing journey that I never expected to take.
Most demonstrators join because they love the products and want a discount. Who doesn't love a discount? Most demonstrators I know, say they stay because they love being a part of this great community.
There is a place for you whether you like to create, want to gather with a few friends and share what you know, or if you want to create a growing business. I hope you'll consider joining my team and see where it can take you!
Contact me with questions or find out more here.
As always, feel free to contact me at any time! I love to discuss all things stampy!
Sincerely,
Beth
CHOOSE YOUR BUNDLE!
Choose $125 in Stampin' Up! products for only $99! (plus the bonus bundle)
If you don't think demonstrating is for you, joining to get the discount on your personal purchases is a great benefit, too. You can enjoy a discount of 20% or more on all future orders.
AMAZING VALUE!
So let's recap - For only $99:
Choose up to
$125
of any Stampin' Up! products of your choice for your kit. Choose from current catalog items, bundles, and Clearance Rack. AND, choose an additional bundle from the list above absolutely FREE, that's up to an additional $60 in FREE merchandise.
Free Shipping!
The starter kit ships FREE for another
10% savings
.
No risk!
You'll have through the end of your first full quarter to "test drive" demonstrator discounts and benefits.
No penalty!
If you reach $300 in sales by the end of your first full quarter, you automatically remain active for another quarter. If you don't reach $300 in sales, you can "drop" with no penalty, and you keep everything from your Starter Kit.
No catch!
There's no obligation to hold workshops or parties, sell products to others or personally purchase anything beyond the kit.
Whether you join to share creativity, hold workshops and earn money, or get a great discount on your personal orders, we have options. All while doing what you love to do - stamp and share!
More Details on My Website